Read for fun this summer! Reading is an important way we can connect with the world around us. Through reading we can experience other's joy and pain, accomplish goals, try new things, and go places we could never afford to travel to. But you must enjoy what you read or what's the point of opening a book?
So first, choose books that sound interesting to you, and read at least 2 chapters. If you're not hooked by then, read something else! The purpose is to find a story that engages your mind, your emotions and your imagination.
Read at least 2 books this summer. The List of 2019 Teen/Intermediate Nutmeg Nominees are below. Click on the pictures to get more info and purchase. You must read one of these books. You may choose any other book that you are interested in that is on or near your grade level. Make sure the book challenges your mind. Click the picture to the right to check the book wizard.
---
Also, the West Hartford Public Library's Teen site is a good resource. Click the picture to the right
For students new to St. Brigid and students entering 6th grade this assignment is an opportunity for you to not only challenge your mind, but a great opportunity to get a sneak peak into some of the things you'll be doing in literature class next year. For 7th and 8th graders this is an opportunity to practice skills that you will use again next year.
The assignment is due on the first day of school and will be a significant piece of your 1st Trimester grade.
See the requirements below.
Please contact Ms. Seidl if you have any questions:
mseidl@stbstapartnership.eduk12.net
Happy Reading!!!
---
Powered by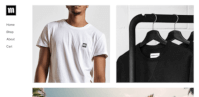 Create your own unique website with customizable templates.